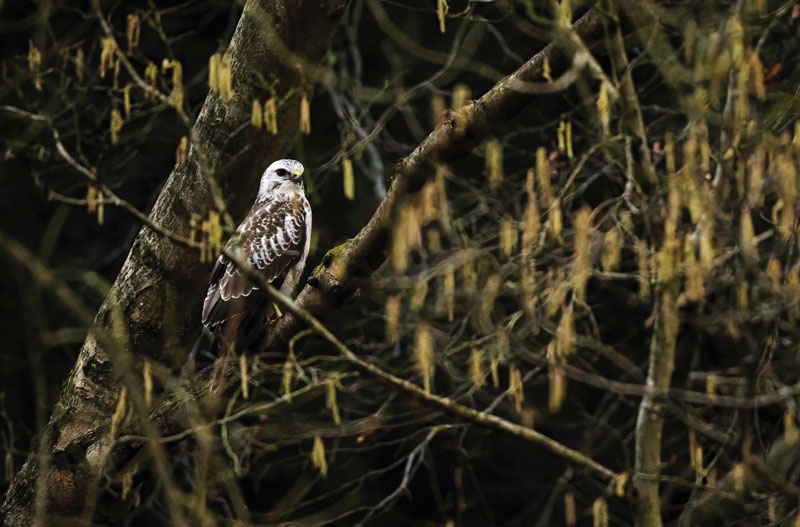 Wildlife Through a Lens
We are very fortunate at the Trust to have a committed group of volunteers working with us, many of whom are knowledgeable in a variety of aspects of the natural world. One of these is Liam Edwards, a keen naturalist and skilled photographer, who has been monitoring the wildlife of the estate over recent months, including nesting sites, badger setts, fox dens and a number of owl locations.
In early March, while checking on our Gadespring site, he suddenly heard a lot of commotion and a male and female kingfisher came flying along the water channel and landed on a small bridge. The female was extremely vocal. Liam managed to grab this great shot of her scolding the male, who looks suitably chastened!
Also pictured is another one of Liam's spots – this pale phase common buzzard was photographed near to Howes Retreat whilst Liam was on the lookout for barn owls. A buzzard's plumage can vary greatly in shade, from dark brown to extremely pale. Juvenile birds are also paler than adults.
We look forward to sharing more of Liam's beautiful photos with you in the future.
Bluebells on Display
Spring seemed slow getting underway this year, and the bluebells were a little late in coming to full bloom. However, they came good eventually and have put on a fabulous display in the woodland areas around the Trust estate. This photo was taken in Bury Wood in mid-May, when the colour was still vibrant. The British bluebell (Hyacinthoides non-scripta) is not to be confused with the Spanish variety, which is very similar in appearance. However, Spanish bluebells grow upright, with the flowers all around the stem, not drooping to one side like the British bluebell. Hybrid bluebell (Hyacinthoides x massartiana) is a mix of the British and Spanish bluebell. It is often very similar in appearance to our native bluebell but might threaten its existence by out-competing it and diluting the gene pool.
www.boxmoortrust.org.uk
01442 253300