It has been, without doubt, a year like no other. Many of us have been hit hard by feelings we have never felt before – Isolation, fear and confusion.
It is no wonder that our anxiety is rising. It is no wonder that our patience is wearing thin.
As a psychologist, I can offer you help to safeguard your mental fitness, health and wellbeing. Here are my three tips all with a video link. At the end, an invitation for a free webinar on "how to manage anxiety in certain times."
Tip one:
Self-acceptance might not be the first step to change.
Commonly we are taught that we can only change once we are accepting who we are.
My tip: Don't believe it (sorry Carl Rogers, 1956). Self-discovery and awareness must come first. Otherwise, we don't know who we are. We do not how we are in different environments. In other words, we cannot develop. Thus, nurture your curiosity to discover who you are.
For more information visit this link:
https://www.facebook.com/watch/?v=781836912347228
Tip two:
Focusing on distress can make us impotent.
Psychologist, psychotherapist, counsellors, coaches and you, the client, we all seem to be focusing on dysfunction. No wonder when the world of research is focusing on distress rather than empowerment. Between 1972 and 2006, there was a ratio of 5:1 depression to wellbeing research papers published (Herfferon & Boniwell, 2011).
My tip: Be kind to yourself when you notice that you are dwelling on distress and dysfunction. Remember that this is what all of us are doing. Then take another step. Don't get stuck down – detach yourself. There are many different exercises to help you, you'll find one in tip three.
For more detail on tip two follow the link
https://www.facebook.com/watch/?v=527223864657115
Tip three:
Chuck your Moaning-diary.
If you are using a diary as a vessel for repeating the same old story, you are strengthening that very same negative story and self-narrative.
My tip: Use the journal to write/bring that "you" into the foreground the one that helps you to develop to a better version of yourself.
For more detail on tip three follow this link https://www.facebook.com/watch/?v=202195131067453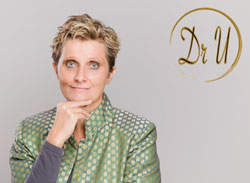 "My therapy is pragmatic, skilled and effective in delivering sustainable change. I believe therapy is only worthwhile when it makes a long-lasting change for the better."
Dr Ute Liersch, BSc, MA
ute@vonlerse.com
07494 911464
www.ute.care