Hemel Hempstead school girl, Poppy, has set up an on-line raffle to raise money for a Camps International expedition to Tanzania in 2023.  She will also be donating 15% of the prize fund to a local charity – this month it will be Boxmoor Good Neighbours.
Enter Raffle to Win 2.4KG Box of Celebrations Hosted By Heidi Brown (raffall.com)
To find out more  about Poppy's challenge keep reading …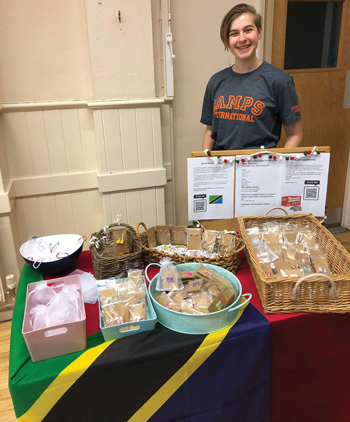 Hi I'm Poppy, from the Hemel Hempstead school.
In 2023 a group of students and I will be travelling to Tanzania for four weeks, with Camps International. This expedition will include working hand in hand with local people, learning traditional skills, about challenges they face, and working to find solutions. There is also a strenuous personal challenge – a 5 day trek up Mount Meru, camping through rainforest to the summit.
Part of the whole experience is fundraising for our passage. I need to raise £5000 to cover trip, accommodation, food, community work and conservation activities.
To raise funds I am creating items to sell, events to run, and putting myself through physically challenging sponsored activities. I will be doing this as an individual, and partnering up to create bigger events, as well as revising for GCSEs!!
My first challenge is underway already, I am learning Swahili with Duolingo!!
My first fundraising activity has already taken place, I had a stall at Bovingdon Village Market, where I sold my handmade earrings. This was great fun, and I sold a lot of earrings.
I feel this is a great opportunity to raise money not just for my cause, but to also benefit local charities. I've created a raffle to win a huge 2.4kg box of Celebrations chocolates in time for Christmas, PLUS giving 15% of the prize fund to a local charity. The more entries, the greater charity donation! I am using an established online raffle company, Raffall. Keep an eye on my Gofundme page for details of raffles and events, and follow my progress!
I am delighted to announce that Decembers raffle will benefit Boxmoor Good Neighbours! Good deeds start at home, so as I will be helping people in rural Tanzanian communities, it seemed right that I help a charity working in MY local community as well. Go to the Raffall and please tell everyone you know!!
Thank you / asante sana!