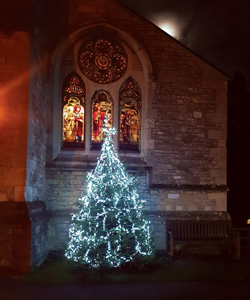 Friday 17 – Tuesday 21 December
Once More, Shining a light into the Darkness
Despite the pandemic restrictions, St John's managed to hold a very successful Christmas Tree Festival last year. It seemed to strike a chord within the community. The situation may be a little different this year, but the pandemic has not gone away and community outreach is very necessary. Our aim is therefore to share some festive cheer and to shine the light of Christ amid the gloom.
The 2020 Festival had to adapt to fit in with Covid restrictions and there were only a few trees inside the church, but for the first time we installed brightly lit trees outside in the church grounds, visible to all passers- by! For 2021 we are developing this idea with even more outdoor trees, but also a few more inside the church too. All trees are sponsored, the indoor ones will be beautifully decorated and we are very grateful to sponsors and decorators. We will, of course, have to abide by whatever level of Covid regulations are in force at the time.
The church will be open from 10am – 5pm Friday 17 December, Saturday 18 December, Monday 20 December, and Tuesday 21 December (Sunday church will be open for Worship only). All are welcome to come and see the trees. We would ask people to respect social distancing as necessary. Do come along and enjoy the light in the darkness!
Admission: Adults £2.50; kids go free
Following on the success of last year's event, on Saturday 18 December there will be Outdoor Carols at 2.00pm (Santa may even drop in!) In addition, from 12noon–4.00pm on the Saturday, we plan to operate stalls selling Hot Dogs and Glühwein.
The times of all Christmas Services can be found on our website, www.stjohnsboxmoor.org.uk and are displayed on the church notice boards, and in the Parish Christmas card which will be delivered to every house in Boxmoor Parish. In order to control numbers and ensure an element of social-distancing, admission to some services over the Christmas period will be by free tickets available from our website and via ticket@stjohnsboxmoor.org.uk