('Feel Good', Trad. American folk song)
On Saturday 17th July, we sang at the St John's Summer Fete in Boxmoor. We finished with what might be called our theme song – Feel Good! It's a song we all enjoy singing, rousing and rhythmic, with added clapping for good measure!
It was amazing to be singing for an audience again after 15 months of lockdown and we all felt the added buzz it gave us. Rufus, our musical director, was clearly as delighted as we were to be performing again and complimented us on being the 'crack team' – praise indeed!
We sang again the next Tuesday, when we had our final rehearsal of the term in Gadebridge Park with more than fifty of us there, followed by a picnic and a chance to catch up with friends old and new.
Our chair, Caroline thanked us all, saying:
'I'm just so proud of how we have all stuck together over these last awful months. With some hard work from the Committee and the strong commitment shown by so many members, the Choir has come out the other side intact and we're raring to get out and start performing again.'
And so that's it, till we meet again in September. We return to rehearsals on Tuesday, September 7th, though we do have a Garden Party and a Tour to look forward to in the summer break.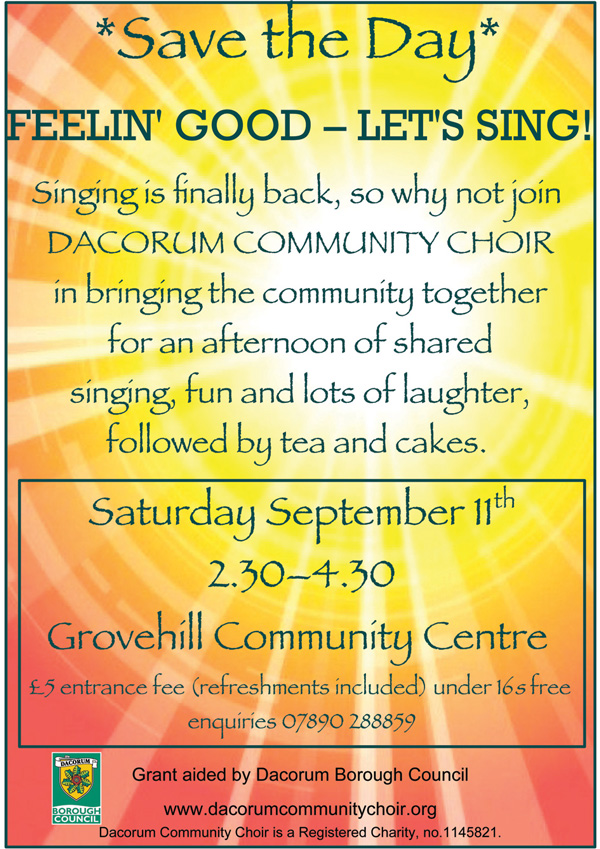 But to get back our theme, we're hosting an event on the afternoon of Saturday 11th September, 'Feeling good – lets sing!', to help bring the community together with fun, singing and tea and cakes. All are welcome – don't be shy. Rufus is an expert at putting everyone at their ease and we can promise there will be lots of laughter.
We are very grateful to Dacorum Borough Council for their help in awarding us a grant towards the cost of a number of such events throughout Dacorum in the coming year.