Now that the weather has well and truly warmed up and you're spending more time in your garden, you may feel the need to make a few additions to it – perhaps something to bring a little more architecture or structure, to clothe a wall or fence, or something to bring perfume or perhaps colour at an 'off' time of year. Whatever it is, there is sure to be a good selection of trees, shrubs and climbers available right now. At any time of year good planting is important if the plants are to get off to the best possible start, and to grow away well for years to come. But if you plant at this time of year it is all the more essential to do it correctly, since temperatures are increasing and the soil is more inclined to be dry. So, what are the top tips for tremendous planting?
Make sure the plant is properly suited to the space you have available (check the label or in a good book). Dig the planting hole, making it bigger than the current root ball. On clay soils dig out the hole using a fork, as this is less likely to impede drainage, and make sure the hole is large enough to incorporate some bulky organic matter plus some grit. Fork over the sides of the planting hole. Use garden compost, well-rotted manure or proprietary planting mix to improve the soil texture and add nutrients. If the soil is really poor then you could also use some general fertiliser.
Tease the roots out well before planting. If necessary, soak the root ball in water for a couple of hours first. This helps to loosen up a congested root ball and makes it much easier for the roots to move out into the planting hole and surrounding soil.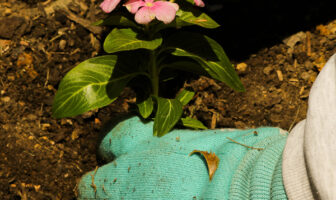 Lower the plant into the hole and gradually add the soil mixed with planting compost. Check that only the roots are buried, not the stem, as planting too deep can kill and will always make the plant suffer and perform poorly. (The only exception to this is clematis, which do better if planted a few inches deeper than this.) Placing a cane over the top of the planting hole makes it easier to judge the correct height of the soil level. Firm the soil around the roots. The surface of the compost on the existing root ball needs to be level with the soil surface.
Re-check the planting depth and water in well – this is really important – and once the soil is thoroughly moistened, apply a 7.5cm (3") deep mulch all over the root area. This will reduce moisture loss from the soil and also help to keep weeds in check.
There is only a need to stake very lanky or large trees, and if you do this make sure that the stake goes in so that root damage is minimised, holding it in place with a tree-tie and buffer. Short stakes are now generally believed to be best in the long term.
Make sure that the new tree or shrub is kept really well watered and that the soil is not allowed to become dry, as in this establishment phase watering is the key to success.
Don't forget that it's good to have a garden that's productive as well as pretty, so save some space for growing a few of your own delicious vegetables. At this time of year, you can still raise some plants from seed yourself, but you may also want to buy some garden-ready plants to get things moving even more quickly and ensure they crop before the season ends. For a selection of my favourite varieties of tomatoes, sweetcorn, broccoli, runner beans, climbing French beans, lettuces, beetroot, peppers, chillies, courgettes, squash, onions and more, accompanied by my weekly tips and advice, you can take a look at my new website and select what you want to grow from the UK-grown range!