In response to the vast impact that the COVID-19 pandemic has had on people's lives, Age UK Dacorum – a local charity offering crucial services for older people and their carers in the local community – has recently launched a new, unique initiative for the local community: Bereavement & Covid-19 Support Service.
This is a free confidential listening service, which will assist those who would like to talk to someone and require guidance with the difficulties faced at this time. Open to everyone, all are welcome.
Age UK Dacorum recognises that not only are people experiencing bereavement from the death of loved ones, which possibly includes not being able to say goodbye to them at their bedside. But, also, many people are suffering grief because of loss of purpose, changes to their previous everyday life, not being able to see loved ones nor being able to pursue their hobbies; all of which can contribute to feelings of isolation and loneliness.
This free confidential listening support service will be available Monday to Wednesday 10am-12pm via a dedicated direct phone line: 01442 507880. At other times, messages can be left for someone to return your call. Both listening support and practical advice will be provided, all helping to create an on-going support service.
David Pearce, the Chief Executive of Age UK Dacorum says; "The coronavirus pandemic has brought new challenges. In response to these difficult times, Age UK Dacorum now offers a unique Bereavement & COVID-19 Support Service, providing an essential local support network for those who need someone to talk to and practical help. After restrictions are lifted, there are plans to open local venues within the Dacorum area, to provide one-to-one conversation."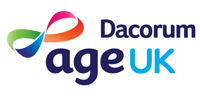 For further information please contact:
01442 259049 | admin@ageukdacorum.org.uk
www.ageuk.org.uk-dacorum