Would you like to grow some fruit in your garden, but are a bit short on space? There's a simple solution: make the fruit work in more ways than one. Fruit trees, canes and bushes need not be just productive and tasty, but can also be made to perform other functions in a garden – and with a bit of extra thought and creativity, you can make best use of their good looks too. Fruit plants are available at most times of year, but it is between about now and early next year that the widest selection is available from specialist fruit nurseries as 'bare root' plants, and this is also the perfect time to plant fruit.
A simple and otherwise boring metal arch can easily be transformed into a fruity delight if you train tree fruit such as apples or pears up the vertical sides and over the top. Make sure you have perfect pollination (and so maximum crops) by choosing two different apples, one planted up each side of the arch. Choose apples in the same pollination group and they will each pollinate the other. You can use cordon apples or simple 'whips' (basically a straight stem and the least expensive way to buy fruit). A good fruit tree nursery will be able to advise you as to the best combination to grow.
Cherries can do surprisingly well in a large pot or planter, or in a wooden half-barrel. The combination of their lovely white blossom in spring followed by shiny cherries in the summer also means that they make an attractive plant for a sunny, sheltered patio or back yard. When you buy your cherry make sure you ask for one on what is called a 'dwarfing rootstock', such as Gisela 5, meaning that the variety you select has been grafted on to a different cherry – one that will ensure it does not get too big.
If space is really limited then there are many types of fruit that take up extremely little space. You can either get varieties sold as Ballerina apples or, for even better value and to increase the range of varieties you can choose from, choose cordon apples or pears and simply train them vertically. These will form columnar trees that can be spaced 60-90cm (2-3ft) apart. To keep the shape good and compact, you'll need to prune the fruiting laterals in summer and restrict the height of the trees to 1.8-2.4m (6-8ft).
Perfect for planting at the front of a vegetable plot or a flower border, a stepover is basically trained to form just one 'arm' of fruit to the left and one to the right. You can buy these ready-trained and the horizontal arms are generally about 45cm (18ins) above ground level, meaning that you can easily step over the apple. Covered with blossom in spring and fruit later in the summer, they look great and taste wonderful too!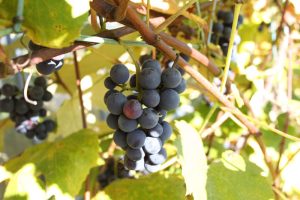 Vines are another great option, and have the potential to produce a good crop in the UK if grown in a sheltered, sunny spot. They can be trained over a wall or allowed to grow over a pergola to create shade. Many vines have leaves that take on fabulous autumnal colours.
There was a time when growing a peach in this country meant having massive greenhouses (and fleets of gardeners to tend them!), but nowadays there are a number of varieties readily available that grow well and produce a very worthwhile crop. If you have the space, I'd recommend Avalon for its ability to crop in a warm summer, but there are several varieties available on sufficiently dwarfing root stocks that will do well in good-sized containers. Try peach Bonanza grafted on to a St Julien rootstock to keep it compact, which has attractive pink blossom and, despite its dwarf size, produces full-sized fruit.
Hybrid berries can also be trained over arches to form useful shade and a very delicious crop. There are several options – one of my favourites is when they are loosely tied to a chunky wooden arch. You can then enjoy the flowers in spring or summer, and the rich good looks of the fruit in summer or autumn.
Strawberries in a pot can crop heavily if kept well fed and watered. Either plant them into a large pot or other container full of good quality compost, or go for a special strawberry planter – which is rather like a large urn with lots of planting holes around the sides where one strawberry plant goes into each hole. The end result looks good and you'll have the added advantage that it is harder for the slugs and snails to get to the fruit!
By Pippa Greenwood
Visit Pippa's website (www.pippagreenwood.com) to book Pippa for a gardening talk at your gardening club or as an after-dinner speaker.