With nearly 100 images in our calendar photo competition this year it was a challenge to select only 12, but we think we have come up with a winning formula of stunning shots reflecting different areas of the Trust land as well as different seasons.
It's clear from the posts and messages we have received that being able to get out and walk on Trust land during the long months of lockdown has been of enormous importance, and many of you took your cameras out with you. The theme "Enjoying the Moors" attracted entries covering all aspects of the Trust, from landscapes, wildlife and nature to livestock. We just wanted to see what it is that you love about the Box Moor Trust.
The 12 finalists were posted on our Facebook site to be put to the public vote to determine 1st, 2nd and 3rd places. The winning shot, scoring 251 votes, was this beautifully backlit image taken on Station Moor by Steve Wiles. Another monochrome took 2nd place for Adrian Jones, who picked up 189 votes for his atmospheric shot of a dog walker on a misty morning at Harding's Moor. In 3rd place with 131 votes was a dramatic sunset over the Bulbourne by David Atkinson.
Congratulations to all the winners and finalists. Copies of the 2021 calendar are available to buy from the Trust website at £6.00 + £1.50 p&p.
2020 Grants:
The Trust is pleased to announce that the following grants have now been approved under its annual programme of support for community projects within the area of benefit:
1st Apsley Scouts: £2,500 for adaptations to meeting hut to make it Covid-secure.
Camelot Netball Club: £1,500 for purchase of waterproof and padded branded jackets
Community Action Dacorum: £2,000 for purchase of computer equipment
Dacorum Dolphins: £500 for purchase of floats, swim toys and wire mesh storage box
Dacorum Talking Newspaper: £2,500 for purchase of computer equipment and memory sticks
Friends of Collett: £2,440 for establishment of vegetable patch and shed and development of nature trail
Hemel Hempstead Town Youth Football Club: £2,500 for IT equipment and website construction
South Hill School PTA: £2,500 for construction of an outdoor nurture classroom
Sunnyside Rural Trust: £2,500 for purchase of bakery equipment
In addition, £6,000 was awarded to Dacorum Community Trust for distribution by them to deserving causes during 2021.
The Trust has renewed its commitment to Community Action Dacorum's vital 'Community Transport' minibus scheme, with an annual contribution of £2,500 guaranteed for another three years.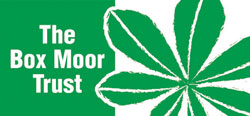 BOX MOOR TRUST
The Box Moor Trust Centre, London Road, Hemel Hempstead, HP1 2RE.  Telephone: 01442 253300
admin@boxmoortrust.org.uk
www.boxmoortrust.org.uk