The gift that keeps on giving
The season of giving generally represents a time of excessive consumption and shopping for those who participate in festivities. So, with the end of the year in sight, there's no better time to start giving to nature on a permanent basis. Most of us could improve our habits, so that we give more than we take.
Did you know, for example, that within around two years, new developments in England will be expected to demonstrate that their projects will increase biodiversity by at least ten per cent? Known as Biodiversity Net Gain, this is a big change from what happens at the moment. The new Environment Bill will make it necessary for developers to use ecological features and environmental enhancements to protect and improve existing natural habitat and green infrastructure.
Apply similar principles to a garden
Anyone with a garden can start right away. Although not covered by the new Bill, we are all developers in a minor sense and should play a part in improving our immediate surroundings. We build patios, erect sheds, put up fences and decide where the beds and borders should be positioned. Some of us roll out turf to create lush lawns and we might allow portions to grow long so that nature can thrive within those areas. Others tend to favour green plastic grass. Whatever our preference, we should all be nurturing nature. Even if you have chosen artificial turf, biodiversity can be encouraged to triumph within the rest of the garden. You need to select plants with ample benefits for insects, allow wood piles and untidy areas to become part of the border, and use vertical fences and walls for further planting. Animals including birds, insects and small mammals need habitats, food and protection.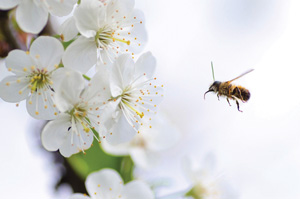 Best plants for wildlife
Most gardens have room for a tree, if only a small one. Some can even live in a large pot, provided they are cared for. Trees and shrubs can support a remarkable number of living things, so if you only have time to plant just one thing in your garden, make it a tree, a shrub or something that provides positive benefits for small creatures. If you have a little more time, a mixed hedge is just about the best you can offer wildlife. Ideally, it will contain several different species all included within the same feature, which will also provide you with screening, wind diffusion, water absorption and beauty.
Great plants for wildlife include:
• Betula: there are 521 species of invertebrates that are known to feed on birch trees and more than 100 of these are exclusive to that particular type of tree.
• Sorbus, the rowan tree: provides food for at least 160 species of insect and, of course, birds and small mammals love the berries.
• Malus, the native crab apple: provides homes for at least 90 insect species. Many different insects visit the spring blossom, then birds and other creatures eat the fruits. Even ornamental varieties of this delightful tree provide rich biodiversity benefits.
• Amelanchier, the June berry or serviceberry tree: has something to offer wildlife during several seasons. Early spring flowers for pollinators make this small tree look like a white cloud. It also provides multiple nesting opportunities for birds and juicy berries during the late summer.
• Conifers: really are worth having! Some have earned negative press over the years but this doesn't detract from their value to wildlife. There's probably no better tree for providing nesting sites and protection for a wide range of creatures.
• Flowering shrubs and perennials: choose single flowers over double, every time. They have an open shape that allows access for the pollinators and nectar-drinkers. Double, blousy flowers might look beautiful but for insect pollinators they are bad news because they offer very little pollen. Yet they still signal their wares to insects, which waste valuable energy trying to reach the food they need to survive. Look for yellow stamens within a flower; these will support insects.
• Purple and blue flowers are best for bees! buddleia, catmint, lavender, pulmonaria, penstemon, allium and purple-flowering hardy geraniums can all be seen clearly by bees. Try to ensure there is something flowering from early spring right through to autumn and even winter.
• Butterflies love hebes, sedum (Hylotelephium varieties), Verbena bonariensis, Origanum, Erysimum 'Bowles Mauve', buddleia, scabious and many wild flowers such as knapweed.
• Be sure to include some caterpillar food plants within your garden, such as nettles (Urtica dioica) which are loved by Red Admiral, Peacock and Small Tortoiseshell butterflies; hops (Humulus lupulus), loved by Comma and Pale Tussock butterflies and sweet bedstraw (Galium species) which attract the beautiful hummingbird hawk moth.
Caroline Knight:
Gardendesignideas.co.uk