(1944, Hugh Martin and Ralph Blane)
This is one of the numbers in the Choir's Christmas songbook that we use when we perform in the community. It's from 1944 and was composed for the film 'Meet me in St. Louis'. Judy Garland sings it to cheer up her younger sister, played by Margaret O'Brien.
When it was written the world was beginning to hope after a long time of sadness and loss and that seems to find an echo in our Covid hit times.
Our last Christmas concert was in 2019 and we are happy and excited that we'll be able to sing with a live audience again this year. On December 11th, at 6.30, we are presenting 'Glad Tidings', a programme of festive choral cheer, at St John's Church in Boxmoor.
See below for more details, and how to get tickets in advance. You can also come along on the night and pay on the door.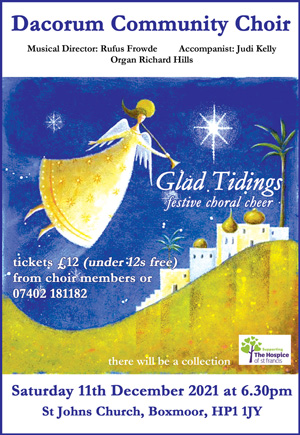 As well as the concert, we will be singing for the Christmas Lights switch-on in The Queen's Square in Adeyfield on Friday 3rd December. We'll be there from 5.00 – 5.30 pm, so do come and join in the fun.
On Wednesday 15th December, from 5.45, we'll be joining in the One YMCA Carol Service at Leavesden Country Park, WD5 0NX. This been a regular fixture for the choir and takes place in the tennis courts, with refreshments on offer.
Both those events will be in the open air, so you may need to dress up warm when you come along.
Our final booking for this year is a special one; In previous years we've had the immense pleasure of singing for many very lively audiences in care homes, in clubs for the elderly and for those disadvantaged by memory loss, and in many other such places. Sadly, this has not been possible for the past 18 months and we hope we'll be able to book them again soon and not just at Christmas*. But for now, we have one in the diary. We'll be at the Alexandra Care Home to sing for their residents on December 15th.
Dacorum Community Choir is an adult mixed voice choir. We have no auditions and offer a mixed repertoire from Bach to the Beatles, though we don't tackle the major choral works. Our rehearsals are at the Grovehill Church of the Resurrection and we meet on Tuesday mornings in term time. If you think you might like to join us further details are our webpage www.dacorumcommunitychoir.org or have a look at our Facebook page, www.facebook.com/ dacorumcommunitychoir.
Rehearsals resume in the New Year on Tuesday 11th January. Do come along for a taster – you can be sure of a warm welcome.
If you'd like any more information about the choir or would like to book us to sing for your organisation, please phone 07402 181182.
Happy Christmas, everyone!
PS. Unfortunately we have had to postpone the 'Come Along and Sing' morning on December 4th. We are planning a similar event in early Spring and we'll tell you more about it next month.
If you'd like to join us or book us to sing for your group you can find more information on www.dacorumcommunitychoir.org,
www.facebook.com/dacorumcommunitychoir, or speak to Sally on 07402 181182