Seize the opportunity for planting
As winter begins to wrap its chilly fingers around the garden, it's hardly surprising that many people turn inwards and gardening activities gradually slow down or even cease. But there's plenty of opportunity to create a visual feast that will carry you through the colder months of the year. The garden can be enjoyed from both indoors and out, and November is the perfect planting time while there is still warmth in the soil. What's more, bare-rooted plants are often available at this time of year, making them much easier to transport – and less expensive too.
Consider planting shrubs that will give you colourful berries, trees for fiery autumn foliage, those that provide winter stem colour and structural plants that will make your garden look appealing throughout every season. Aim to have a few plants that give you something beautiful every month, so that your garden is set alight during dull days.
Be sure to invite birds into your garden too. They will love most autumn and winter berries and will also appreciate supplementary food from bird feeders. In return they'll provide a continually changing picture to brighten up the season.
Five shrubs to provide fireworks for the season
Callicarpa bodinieri var. giraldii 'Profusion' looks fairly inconspicuous for most of the year, but then comes its awe-inspiring bead-like berries that are violet- purple in colour. They stay on the shrub after the leaves have dropped, when the display of pom-pom berries is as vibrant as any firework in the sky. It's easy to see why this plant is known as the beautyberry.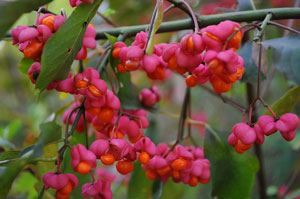 The spindle tree, Euonymus europaeus, is a great little shrub at any time of year. But autumn is when it excels. Choose the variety E. 'Red Cascade' for maximum impact. The autumn leaf colour is wonderful, then the generous display of fruits needs to be seen in order to be believed. Each one is a vibrant red but when it splits open it reveals delightfully clashing colours from bright orange seeds.
Viburnum opulus, the guelder rose, is a shrub that provides interest during three seasons. There are clusters of creamy white flowers in spring, then it is smothered in hanging bunches of luscious red berries in autumn that are loved by birds. The rich red autumn foliage colour is also a sight to behold.
We are spoilt for choice when it comes to autumn leaf colour. Acers are well known for their incredible display of red, yellow and orange leaves. But it's Amelanchier that wins the autumn show. Also known as snowy mespilus, this small tree sets the borders alight with scarlet, orange and crimson leaves.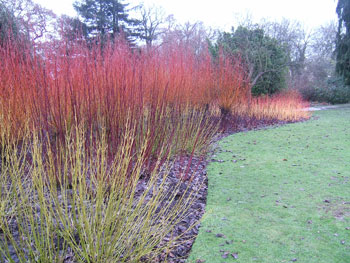 Shrubs really do steal the show at this time of year, but not only because of their leaves and berries. Cornus, or dogwood, has vibrant stem colour once the leaves have dropped. There are varieties with lime-green stems, some with flaming orange and red stems and others with dark purple tones. Plant en masse for maximum effect and cut the stems down each year in late winter, so that next year's show is equally as vibrant.
By Caroline Knight
gardendesignideas.co.uk