Preparation time: 15 minutes
Cooking time: 30-40 minutes
Makes one 6 inch cake / serves 10
Make the most of fresh blackberries with this delicious gluten-free cake. Ideal as a dessert with yogurt.
150g gluten-free self-raising flour
1 tsp baking powder
75g xylitol or coconut sugar
Pinch of sea salt
2 eggs
100ml dairy-free milk or regular milk
60g coconut yogurt or Greek yogurt
120ml olive oil
100g fresh or frozen blackberries
A little apricot jam for brushing
Yogurt to serve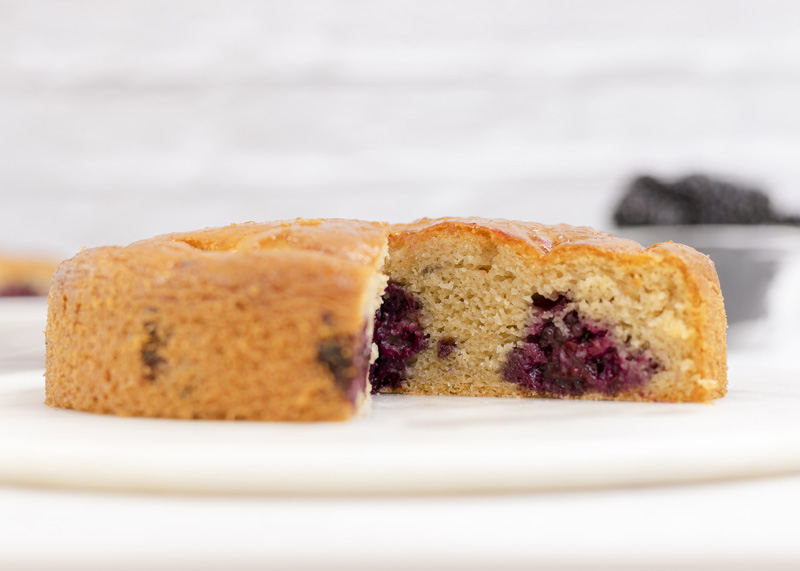 Grease and line a 6 inch cake tin. Preheat the oven to 180C/160C fan/gas mark 4.
Place the flour, baking powder, xylitol (or coconut sugar, if using) and salt in a large bowl and mix together. In a separate bowl whisk together the eggs, milk, yogurt and olive oil, then pour this mixture into the dry ingredients and beat well with a wooden spoon.
Fold in the blackberries, reserving a few for the top.
Spoon the batter into the tin and smooth the top. Press the reserved blackberries into the top of the cake.
Bake in the oven for 30-40 minutes until golden and cooked through. Remove from the oven and, with the cake in the tin, brush the top with a little warmed apricot jam to glaze. Allow the cake to cool before removing from the tin.
Cut into slices and serve with yogurt.
Nutrition per serving (using xylitol): 218kcal, fat 13.4g (of which saturates 2.2g), carbohydrates 20.4g (of which sugars 1.5g), protein 3.4g