Spring Has Sprung
When the lambs start to arrive, it's a sure sign that Spring is here. Lambing at the Box Moor Trust started on 1st April and is now in full swing. With forty-four ewes in lamb, our stockman, Bob, is being kept busy night and day. Thirty of our pregnant ewes are pedigree Norfolk Horns, with the other fourteen being Charolais crosses. Eighteen ewes are expecting single lambs, twenty-four will be having twins and the other two are carrying triplets. So potentially a total of seventy-two babies!
The new lambs will be kept in our nursery pasture for a few days, before going out onto Preston Hill meadow with their mums. We would please ask dog owners to be especially vigilant at this time, and to keep strict control of your dog when walking at Westbrook Hay. Dogs may not go into fields where the lambs are grazing and should be kept on leads in the areas around the sheep pastures to minimise the risk of that happening.
Our rare breed Belted Galloway cattle have been lodged at their winter quarters at Howes Retreat for the last few months but will be returning to the moors at the end of April. With their distinctive black coats with white banding, we are often asked, 'When will the Oreo cows be back?' Look out for their return soon – we know they are a very popular feature of the local landscape.
Bin it!
We know that our beautiful moors offer great spaces for dog walking and we welcome responsible dog owners. Unfortunately, a significant minority do not clear up after their dogs and that causes problems for all of us. Dog waste can spread a variety of diseases to humans and other animals including Neospora, which can cause abortion in infected cattle. If your dog fouls, always bag it and bin it, or take it away with you. It is impossible for us to provide and service bins all over the estate. Any waste bin will do. Please do not leave bags lying around or decorate trees and bushes – this is repugnant to everyone and does not constitute responsible dog walking. We will shortly be launching a coordinated awareness campaign to combat this issue, so look out for the posters soon.
Community Grants:
Suspension of Programme
When surplus funds allow, the Trust makes available a grant fund to eligible not-for-profit organisations within its area of benefit. Over the past 20 years, the Trust is proud to have helped with the funding of over 170 local community projects in this way. It is with regret, therefore, that because of ongoing uncertainty regarding the Trust's income levels due to Covid-19, we have reluctantly had to take the decision to suspend the grant programme until further notice. We hope and anticipate that this will be a temporary measure. (Please note that if your organisation submitted a successful application in 2020 and has yet to claim the funding, don't worry – you can still claim the grant awarded to you.)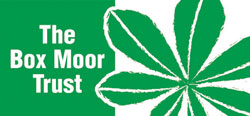 BOX MOOR TRUST
The Box Moor Trust Centre, London Road, Hemel Hempstead, HP1 2RE.  Telephone: 01442 253300
admin@boxmoortrust.org.uk
www.boxmoortrust.org.uk