It all began in 2009 when a fresh-faced young musician was finally persuaded to form a community choir at Astley Cooper School in Hemel on the strict understanding that he would do it for a few months when the job would be passed on to someone else. Well folks, he's still with us, still fresh-faced, though he's gained a wife and two sons along the way.
Rufus Frowde, This is Your Life! – and ours.
The first rehearsal was on a Tuesday morning, November 10th, when about thirty people turned up, plus an infiltration of students from the school who said they were doing community service (with the elderly?!). It was a few weeks before it was discovered that they were supposed to going to Mass.
Inevitably we have lost some of our first members along the way, but a nucleus is still with us
'I couldn't believe how young the conductor was, and I couldn't believe we didn't have any music…', Eileen Heylin
'I came home elated and spread the word amongst friends.' Trish Fitzgibbons (treasurer till 2014).
Rufus has always liked to challenge his singers and deliberately focused on learning by ear and singing in languages other than English (maybe we might have been called the Choir of Babel), so that the experienced singers wouldn't feel too comfortable and the frankly terrified wouldn't be mystified by a first acquaintance with the dots.
For the first year or so Rufus was both conductor and pianist until on May 3rd 2011 we welcomed Judi Kelly our much-loved accompanist. She too, is still with us.
And so, we progressed week by week and year by year in an encouraging and non-critical atmosphere, until the point, in December 2012, where we felt confident enough to stage our first winter concert, Gaudete, at Carey Baptist Church. A performance notable for many things, not least the fact that the urn, sadly not thermostatic, in which the mulled wine was merrily bubbling during the performance, merrily bubbled over on to the carpet in the lobby, filling the sanctuary with the spicy smells of Christmas.
This is when I came in. I joined in February 2013, after a very encouraging chat with Doug, the chairman. I'd sung in Community Choirs before and 'non-auditioned' was a must. I arrived expecting to sing 'Blow away the Morning Dew'* and maybe some songs from the shows, but was blown away by the world music we sang. Like Trish I went home elated and can honestly say I've never looked back.
*We never did sing it, until last year when it turned up in a lockdown Zoom session (more about that later).
In September that year we staged a performance of Johnathan Dove's community opera, 'Tobias and the Angel' with a professional cast and a comic interlude featuring three of our men (Doug, George and Martin) as gravediggers. The rest of us formed the chorus.
At the beginning of April, 2014, we travelled to the Albert hall to take part in the Hertfordshire Schools' Gala. An amazing event celebrating the young talent that exists in the county. Sadly, after that Rufus never managed to sneak us in again, possibly someone noticed we didn't actually fit the description.
I'm sure Trish speaks for all of us who were part of either or both occasion 'Participating in these gave me a terrific buzz.' Once you get that performance buzz it never goes away.
We've given concerts large and small, sung in care homes and in the community, to audiences large and so small sometimes that even the dog didn't show up. We've sung in sunshine and showers, in pouring rain and in snow, but we've always sung with enthusiasm and commitment.
Eventually we outgrew Astley Cooper and moved rehearsals to the Grovehill Church of the Resurrection, which we still call home.
Some events that stand out for me are: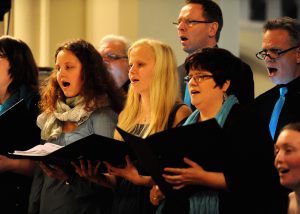 The weekend, 5–7 December 2014 with Melodia Girls and Boys from Neu-Isenburg, Hemel's twin town in Germany. (Yes, they were very young.) As always, our members came up trumps, offering hospitality to the singers, joining in a Barn Dance on the Friday Night and a farewell get together at the Ski centre on Sunday. The Advent concert we gave on Saturday night was particularly memorable, including the Dacorum Youth Orchestra as well as the two choirs. As it as was the 100th anniversary of the start of World War I, we read from 'Memories of the Christmas Truce' which united the young and the old and I know brought tears to some eyes.
Singing in the Chapel of St. Mary Undercroft at the Palace of Westminster on 26th October 2015. We'd been told that they could accommodate a maximum of 15 singers, chosen by drawing lots, though some of the unpicked came along for the experience. Rufus, in his inimitable fashion decided when they got there that was room for a few more, so everyone got to take part after all. Sadly, I was on holiday but I understand that the acoustics were amazing and produced many shiver moments.
And that brings me to one of the great DCC transport crises, of which there have been a few. Two mini-buses had been booked in my name to take the party to Westminster with Dianne Drew's contact details to call in case of emergency. Gutted though I was to miss the event, on the Monday morning, I was sitting on a balcony enjoying the early morning Algarve sunshine, (Actually it battered down all week, which did nothing for my mood! ) when I got a call from one of the drivers. "Hello, is that the choir. I can't open the key box for the minibus and there's no-one answering the phone in the office." There's not enough space for me to tell the rest of the story, but what I will say is that my mobile phone bill for that week was £93!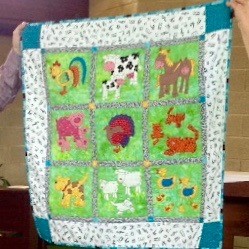 The play mat that Catherina, another of our founder members made when Rufus' elder son was born …
..and the song we sang for Rufus's birthday in June 2018, librettist Roger Harvey, to music by an obscure American composer, Richard Rogers. We had such fun and genuinely took Rufus by surprise.
Last, but by no means least was our 10th Anniversary concert in 2019 when we had the great pleasure and privilege of presenting a new work, 'Were I Not to Sing' composed for us by Rufus to mark the occasion to words by the Revd. Austin Janes, team vicar at Grovehill Church of the Resurrection and a staunch friend and supporter of the choir. Another event I sadly missed, having just got a new hip, but I believe it was a magnificent and memorable evening.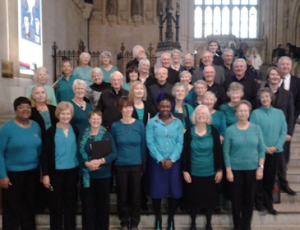 We've done so much more. We've ventured abroad and to the wilds of the Welsh borders on choir tours, which have been enormous fun and such a wonderful opportunity to get to know other people in the choir and count them among our friends. We've had day trips and we met for socially distanced picnic's last summer when rehearsals were stopped.
Our quiz team(s) have had a measure of success, coming first and second in last year's DENS quiz.
We've appeared on BBC 3 Counties Radio and produced a video of songs for You Tube.
And underlying all of this is our shared love of and commitment to singing for all. We've travelled far from the point where we started and have further still to travel. We may never reach the peak of excellence if that is even possible, but what a journey it has been.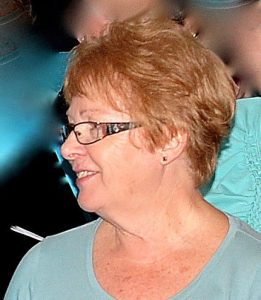 I referred earlier to those we have lost and I would just like to pay a personal tribute to Dianne Drew who sadly succumbed to Motor Neurone Disease in 2019. She and I became firm friends through the choir and I think of her all the time and miss her sense of humour and her common sense.
2020/21 will go down in history as a 'strange' year and we will tell the stories for many years to come but the choir has weathered it well. We've continued virtual Tuesday rehearsals, eventually on Zoom. We've met, when the guidelines allowed, in our homes and in gardens, and in picnics in the parks in the summer. In January we offered a one-off Christmas rehearsal at St John's, Boxmoor.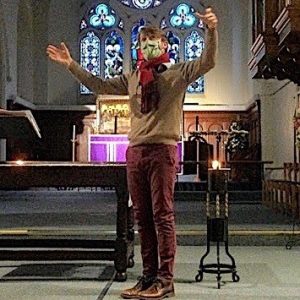 Zoom has been a revelation and it's been wonderful to see the smiling faces of our friends. We've truly confirmed out reputation as the 'friendly' choir
Now the vaccine is being rolled out and maybe we'll be back together before too long
And finally, some thoughts from the keyboard from Judi:
The things that stand out?
The wretched unreliability of the M1 and suddenly finding myself starting the rehearsal when I have been looking forward to a non-strenuous start to my day, because our gracious leader is stuck in traffic!
Playing in some very quirky venues with interesting acoustics, and seeing our audience pleasantly surprised at Rufus expecting them to work for their attendance by learning a new song, AND singing it with us, at the end of our concerts!
The marvelous cakes after our concerts.
Playing piano duets with someone as amazingly talented, and yet so much FUN, as Rufus.
Being moved to tears by some of the beautiful music we perform.
Having an absolute blast playing pieces such as Al Shlosha and Hine Ma Tov as the accompaniments are such FUN to play.
The thrill of playing Rufus' own composition for our tenth anniversary concert. That was a real honour for us all.
Having certain members of the soprano section (who happen to be in my direct eyeline at rehearsals) commenting on my, sometimes overly, expressive eyebrow. (We LOVE her eyebrows)
I have missed our rehearsals and camaraderie so much during this wretched lockdown. BUT it has been an absolute MARVEL how 50+ members REGULARLY attend Zoom sessions.