Let us all remember together
This year, many of us have endured the heartbreak of separation, or the loss of a loved one, without the opportunity to share our feelings properly. We are inviting you, your family and friends to join our Light up a Life online event (Sunday 6th December at 4.30pm), where our whole community can come together to celebrate and remember loved ones. We are pleased to welcome both Hospice supporters and the wider community.
The lights on our virtual Christmas tree carry dedications to special people and we are inviting you to make your dedication and remember loved ones.
This unique and moving event will feature readings, songs, the lighting of the Hospice Christmas tree lights and the opportunity to remember all the special people in our lives.
Find out more at stfrancis.org.uk/lual
Take a look at our upcoming news and events…
Christmas Shopping Events
Be inspired to make your home the heart of your Christmas with gifts, decorations, upcycled pieces, soft furnishings…and a few surprises along the way!  Christmas shopping weekends at our Returned to Glory showroom (Northbridge Road, Berkhamsted, HP4 1EH) are:
Saturday 7th & Sunday 8th November 10am-4pm
Saturday 5th & Sunday 6th December 10am-4pm
Take advantage of 15% discount on all items (excluding Christmas cards) with number twenty's all day Christmas Shopping!
Sunday 15th November and Sunday 29th November, 11am-4pm
Christmas Winter Shopping Markets
With quality stalls selling a variety of food, drink, gifts and local produce from handmade toys, accessories and skincare to treats for your pets and stunning local art, you'll find something for everyone this Christmas! Both markets to be held at Berkhamsted Cricket Club, HP4 1HE, 10-4pm.
 Food & Drink Market, Saturday 14th November, 10am-4pm
Gifts & Crafts Winter Market, Saturday 5th December, 10am-4pm
 Hospice Christmas cards
Please also don't forget to buy your charity Christmas cards from us which you can do via our charity shops or online at stfrancis.org.uk/christmascards
Get your locally grown Christmas Tree at the Hospice!
Choosing a Christmas tree is an important family tradition so we are planning to make it even more special this year whilst having sustainability at our core.
We have a new local Christmas tree supplier (GI Rogers & Son) who are based in Ashridge who will be selling both Nordman fir and Norway spruce trees in a range of sizes and from prices starting at £20. Trees will be cut little and often to ensure freshness and peak condition!  Trees will be on sale from 28th November – 20th December and for every tree sold, whatever the size, the Hospice will receive £7.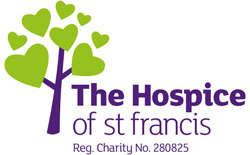 Follow us on Facebook @TheHospiceofStFrancis, Instagram @HospiceStFrancis, Twitter @hospicstfrancis or call us on 01442 869555.